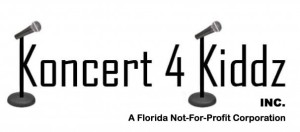 Richard N. Pazos Memorial Koncert 4 Kiddz is a prestigious fundraiser thrown every year in the Tampa Bay area which benefits the Pediatric Cancer Foundation, hosted by Carlos Pazoz. Throughout the years the event has pulled some amazing legends in the professional wrestling industry, the music industry and leading business professionals together for one cause, to help wipe out pediatric cancer.
This year, Country Music Recording Artist CP Kelley will be apart of the festivities, singing his first single "A New Way to Fly" off his new album "Absolute Redemption".
Kelley suffers from Progressive Multifocal Leukoencephalopathy (PML), a virus that attacks the brain. In 2011 he almost lost his life yet managed to survive. He was in a coma for three days and upon waking up, realized he had to train himself to eat, dress himself, walk and talk (things most of us take for granted). Because of his struggle, and because he truly believes in finding cures to diseases and helping his community; CP Kelley is eager to participate at any charity event. Cancer suffers who undergo chemo therapy are at risk for contracting PML.
This event will be a milestone in his career, singing in front of influential people within the entertainment and music industry.
Those who want to come and support the great cause with CP Kelley may buy tickets at the door. This year's Koncert 4 Kiddz event will be held at the Tampa Riverwalk Hotel, 200 N. Ashley Dr. Tampa, FL 33602 April 5th starting at 6:00 PM.