FREE DOWNLOAD BELOW
First of all, thank you to everyone that read about me in the Nashville Music Guide distributed through the "Heart of the Music City Scene Conference 2013".  Growing up, Country Music had a profound impact on my life.  I remember listening to such amazingly talented individuals sing this genre of music that honestly is the "true" American style of music.  I am truly honored to continue in the tradition and follow such amazingly talented individuals who made Country music what it is today.
For me its been a struggle to achieve this dream.  In 2011 I almost lost my life from an unknown illness, later diagnosed as a progressive form of MS.  Regardless, I never let it slow me down.  I can't play any instruments anymore, but somehow I never lost the ability to sing.  In December 2012 I signed a worldwide distribution contract with Pavement Entertainment through Sony RED.  I released my first single "A New Way to Fly" and I am in the recording studio completing my first album "Absolute Redemption".
We are about to release "A New Way to Fly" on the radio.  Keep looking for my single on a radio station near you and don't forget to request the song as well.  Just for saying thanks for supporting me I am giving you a link to download the new single FREE.
Thanks so much!
CP Kelley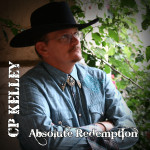 New Way to Fly
CP Kelley
Written By: Garth Brooks
FOR THE SINGLE FREE RIGHT CLICK SAVE AS THE LINK BELOW
https://soundcloud.com/yourpublicityco/new-way-to-fly